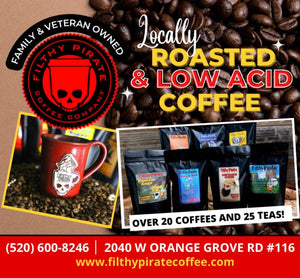 Filthy Pirate Coffee
Filthy Pirate Coffee is veteran/first responder owned, family operated and locally roasted. Our wide variety of delicious coffee is made for those who work hard and need great coffee without the side effects of high acidity.
Our coffee is super smooth, low acid and has amazing aromas and flavors!
Find out More About us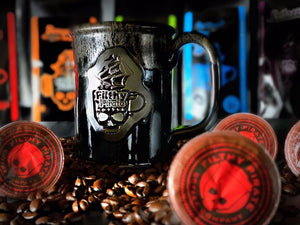 Why Drink Low Acid Coffee?
Our low acid coffee blends are great for those with acid-reflux and other digestive issues, as well as being safer on tooth enamel!
Plus, you can just TASTE the difference! Filthy Pirate coffee is noticeably smoother while still being bold in flavor. Hit the button and get started with our top selling low acid dark roast and taste the difference.
Get that Low Acid Loot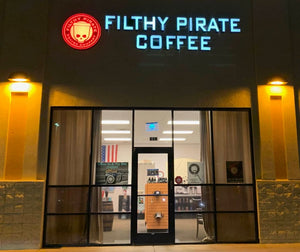 Store Hours Update
Holiday Hours- Our store will have adjusted hours on December 08 of 10-3 and 12-5 on December 12.

We will be closed on December 23 through December 27.
We are also closed December 31 and January 01.
Our store is usually closed on all Wednesdays.

And starting in January we will be closed all Tuesdays and Wednesdays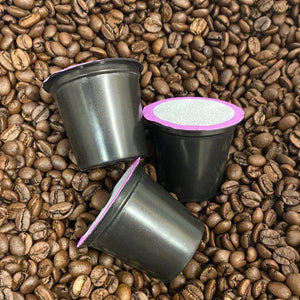 Our Top Selling Coffee ! SUPER SMOOTH AND LOW ACID This is our most popular roast and our flagship coffee!...
Learn more
Flavored Coffee - Holidays are here so enjoy this delicious coffee next to the fire with family and friends! This...
Learn more
The only coffee I drink. Great Selection and amazing customer service. Even better that I get to support locally owned business
David Pedersen
Veteran and retired police owned, which is a double plus in my book! I love that you can sample some of the coffees as I love to find new ones. The owner has no qualms about talking about the various coffees and even offers recommendations based on what you like
John Rascon
If you love coffee go to FPC, if you don't love coffee still go to FPC! So I, don't like coffee. But I dislike mornings more and find coffee to be a necessity. I got a bag of FPC medium roast coffee and I really like it. Its the only coffee I can drink black and enjoy every sip. Please support an awesome local coffee roasters
Angie F
Great place with coffee specially roasted for those who drink a lot of coffee! I liked the ambience, the smell, the conversation with the owner/operator; I'll be back and I'll encourage my friends to stop by and buy coffee.
Dan Johnson
5 star coffee, good flavor, and great service. They have a new steady customer. Great for gifts. NO HEARTBURN
Jason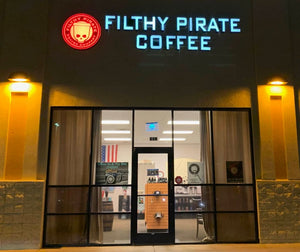 Our Pirate Shack
Come join us at our store so we can custom fit coffee or tea for you. We have a wide selection to choose from with tons of merch and swag too.

CLOSED ON ALL WEDNESDAYS
Store Hours:
Sunday 11pm-4pm
Monday, Tuesday, Thursday, Friday & Saturday 10am-5pm

2040 West Orange Grove Rd #116 Tucson AZ 85704
(520) 600-8246